Latest release of Connected Worker platform enables large companies with complex sets of procedures to dynamically manage and update digital work instructions.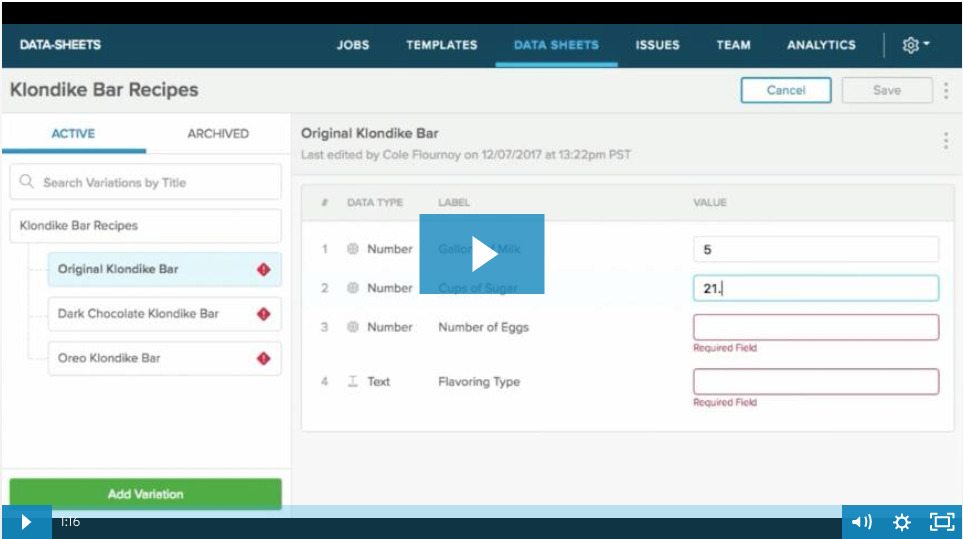 SAN FRANCISCO, April 3, 2018 – Today, Parsable announced the release of the Enterprise Data Integration Framework – a significant extension of the enterprise-class functionality at the core of its Connected Worker platform. In addition to enabling even deeper integration with other enterprise-class systems, this release makes digital work instructions more dynamic and flexible than ever with Dynamic Templates.
"Our view is that an enterprise-class system for orchestrating industrial work like Parsable needs to connect seamlessly to the core infrastructure of the company," said Lawrence Whittle, CEO of Parsable. "Deskless workers execute tasks that are as important as front office work. The work they complete and the data they collect needs to easily marry up to orders, contracts, and customers launched in the front office."
Using the new Enterprise Data Integration Framework, it is now possible for companies to pull attributes from any of their enterprise-class systems or external databases, and display those terms within Parsable. As a result, for any procedure executed on Parsable's platform, the system can now gather data associated with an existing entity – from a SKU to a factory ID – that is already being tracked in a 3rd-party system, dynamically execute variants of the procedure within Parsable, and then enrich the external system with execution data using Parsable's extensive API layer.
At the same time, Dynamic Templates greatly simplify the management of complex sets of procedures and enable entire procedural groupings to be dynamically adjusted from a single data source. By using a simple data mapping structure to define known variables for a procedure, templates can seamlessly reference data and attributes stored in other enterprise systems via the Enterprise Data Integration Framework, or maintained elsewhere in the Parsable system. This means a template can now be written once and do the work of many.
"We recognized early on that our enterprise customers see procedures or work instructions as families of content. By enabling the system to reference values pertaining to a given job from outside of the template, we can ensure that continuously updating these work instructions is as simple as possible," said Thierry Chassaing, Parsable's SVP of Engineering.
In practical terms, Dynamic Templates allow managers that need to repeatedly run many similar types of procedures to maintain a single template that dynamically references the values that pertain to each variant of the procedure. For example, a CPG company may need to manufacture similar food products where the ingredients vary slightly for each recipe, while an industrial manufacturer may define a single maintenance routine for one type of machine where multiple variants of that machine exist.
About Parsable
Parsable helps the world's largest industrial firms get jobs done right — every time. Parsable provides a Connected Worker platform for so employees can collaboratively execute their work using modern mobile devices in paperless, modern, and digital work instructions. Each step and action is measured and employees can raise issues and provide feedback so that every process is quickly analyzed and improved. With Parsable, Connected Worker teams know what they need to do and how to do it.
Parsable's customers include Schlumberger, Scientific Drilling, TechnipFMC, Unilever, Zume and other category leaders in energy, industrial manufacturing, and consumer packaged goods. Founded by veterans of Google, Microsoft, SAP, Oracle, and YouTube, Parsable is headquartered in San Francisco with offices in Austin, Vancouver and Dublin.
Contact: Edward Gorenshteyn, 1-888-681-2119, edward@parsable.com