Parsable Blog
Daher Q&A: Aerospace Industry Depends on Connecting People with Technology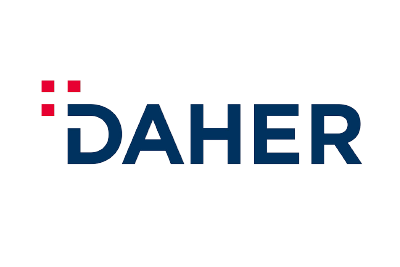 Following our recent news announcing global aerospace leader Daher as a Parsable customer, Smart Industry magazine sat down (virtually) with our CEO, Lawrence Whittle, and Florent Francois, Daher's head of digital strategy, to discuss how things are looking up for aerospace manufacturers who embrace a data-driven strategy.
Smart Industry: What are the unique challenges/opportunities in the aerospace field in this digital era?
Lawrence, Parsable: Commercial aircraft order backlog remains strong, and manufacturers are ramping up production to accommodate growing aircraft demand; Deloitte predicts that up to 38,000 aircraft will be produced globally over the next 20 years. As OEMs increase production rates, suppliers risk facing difficulties in ramping up production. To overcome this challenge, manufacturers are laser-focused on increasing efficiency and digitizing supply chain operations. A key component is making the tasks done by frontline employees more efficient; this requires connected worker technologies like Parsable to digitize and uncover data on the day-to-day work performed by human operators and to optimize procedures.
Smart Industry: Daher cites that the success of the aerospace industry relies on the power of connecting people with technology, including workers on the front lines. What do you mean by that?
Florent, Daher: The aerospace industry develops some of the most sophisticated, precise parts and machinery in the world; human operators are still very necessary throughout the production process. Without real-time data about the work done by human operators, you have huge blind spots in your operations from a productivity, quality and safety perspective. There's a great need to augment human operators with digital tools to not only make their work safer and more consistent, but the transparency provided by this digital-first mindset allows us to better monitor production-order progress and achieve data-driven continuous-process improvement.
As an example, at the recent Paris Air Show, we showed dashboards powered by Parsable's API that allow us to monitor the production start-up, quality and progress of lines assembling a type of propeller. These dashboards were created using real-time data inputs from our operators who are executing their jobs with the Parsable mobile app on the production floor.
Smart Industry: Detail the connection between data and human-led work. What efficiencies are you looking to gain here?
Lawrence, Parsable: Put simply, most systems can track when a job starts and when it ends, but not with the granularity you get from a connected-worker platform where you're tracking every human intervention and action associated with a task, coupled with the ability for human-to-human and human-to-machine real-time collaboration. By uncovering this data, you can now see micro-losses, like time wasted while waiting for an inspector or part to appear, and reduce those inefficiencies across the complete value chain.
Originally published in Smart Industry.