Parsable Blog
The Future of Work: Perspectives from the WEF Annual Meeting of the New Champions
In addition to its well-known Annual Meeting at Davos, the World Economic Forum (WEF) hosts The Annual Meeting of the New Champions (AMNC), also known as "Summer Davos." Established in 2007, it is a global gathering on science, technology and innovation, and brings together the next generation of fast-growing companies who are shaping the future of business and society. More than 1,500 participants attend every year, including leaders from major multinationals, government, media, academia and civil society.
As a WEF member, Parsable was invited to attend this year's AMNC in Dalian, China, and I was the lucky delegate. I've returned with a renewed perspective on the future of work and the critical role Parsable's Connected Worker technology plays in it. Above all, the event reinforced Parsable's mission and what we've been building toward all along: to empower the world's industrial workers with modern digital tools.
Several sessions, including "Talent Transforming Technology," "Closing the Skills Gap" and "Designing a Human-Centred Future" made it clear that the world's foremost companies and institutions alike are prioritizing the exact issues that Parsable is helping to solve.
Closing the Skills Gap
As the panelists discussed during the "Closing the Skills Gap" session, forecasts show that robots could take as many as 20 million jobs over the next 10 years. That may sound daunting, but everyone agreed on one thing: Humans will not be eliminated wholesale. The Fourth Industrial Revolution will undoubtedly include automation and AI. However, the critical thinking skills required to solve complex problems and handle the unexpected will not be automated at scale anytime soon.
The real question is, how do you design systems that augment humans to make them more effective at their jobs and up-level their skills? Connected worker technologies like Parsable focus on the worker experience, optimizing their day-to-day workflows and greatly enhancing productivity, quality and safety. In this scenario, technology doesn't replace human work and doesn't create new processes that alienate humans from the world of work; it helps them work smarter.
Carlos Moreira, the chairman, CEO and founder of IoT technology firm WISeKey and a former United Nations IT Expert, reinforced many of these themes when he mentioned that analog sectors will need to become digital sectors. Extending this idea to the industrial world, manufacturing and energy companies must adopt a digital-first mindset that includes providing modern tools for their frontline workers.
Companies that have leaned into their digitization journeys are already experiencing a distinct competitive advantage. The panel referenced research by the University of London, which showed that companies that have implemented automation technologies have employees who are 31% more productive. Successful companies will also offer employees continuous training and education so all teams, from the top floor to the shop floor, are set up to thrive in a human-plus-machine world.
Talent Transforming Technology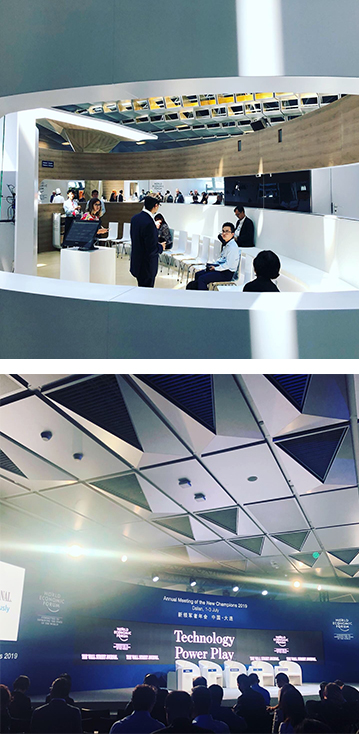 Experts on the "Talent Transforming Technology" panel explored another area of focus for industrial companies: recruitment. The future of work depends on companies reaching out to schools and communities to inspire people about investing in a manufacturing career.
Manufacturing is finding it especially difficult to attract and retain skilled workers. The industry will soon see the retirement of nearly 53 million Baby Boomers and the influx of new Millennial and Gen Z recruits who have very different attitudes and expectations about work. Arming them with digital, mobile-first technology to do their jobs better and more efficiently – the type of technology that they grew up with in their personal lives – is no longer a nice-to-have; it's a requirement.
Improving the worker experience with modern digital tools like Parsable is an investment that will make manufacturing jobs more attractive to these new generations of industrial workers.
It's clear that the Fourth Industrial Revolution is changing the way we work, but it will not monumentally displace humans from the industrial labor force. Those companies that understand how technology can improve the worker experience and preserve the dignity of work won't just survive this revolution, but thrive.